Latessha
Senior Romance Designer
I founded Elegant Nights with the desire to bring love to couples around the world.
I have always loved any and everything that had to do with the concept of love.
This started back when I was a teenager helping my mom plan romantic evenings for her husband to keep their love aflame.
My passion is designing a unique set-up, no matter the room, and I pride myself on the limitless options I have available to me with the right budget and range.
I'm a career mom who spends her time finding ways to spread joy and bringing others happiness one transformation at a time.
I cannot wait to turn your home/hotel/venue into a picturesque night to remember while giving you and your partner the experience of a lifetime.
Fun Fact: I'm a hopeless romantic.
Kierra
Senior Romance Consultant
When I joined the Elegant Nights team the sole focus was initially based on creating a memorable night at home.
However, my desire when joining the team was to create a well-rounded experience that went beyond the bedroom to a more personal space.
I own a business where I create graphics and various designs. And I often create fun, innovative games for my husband and I to do together and I wanted to give that experience to other couples.
To do this I devote my time to creating the date nights.
Starting with the where to the how and then I make all the things you may need for your date to be as spectacular as we know it will be.
I also love trying new things so I make candles, customized shirts, and more that work seamlessly with adding bonus goodies to any package.
I am so excited and overjoyed to create a customized date night for you and your loved one to see how much fun you have with one another.
Fun Fact: I speak Spanish, but pretend I don't around Spanish speakers to surprise them later.
Customized Home Transformations
This is the ultimate experience to get the butterflies going.
This epic bundle gets you an exciting, fun date guaranteed to have you laughing and feeling the love. And the cherry on top is we will transform your home into the greatest night of stimulation in all ways that you have ever experienced.
It is the best bang for both your wallet and you *wink wink*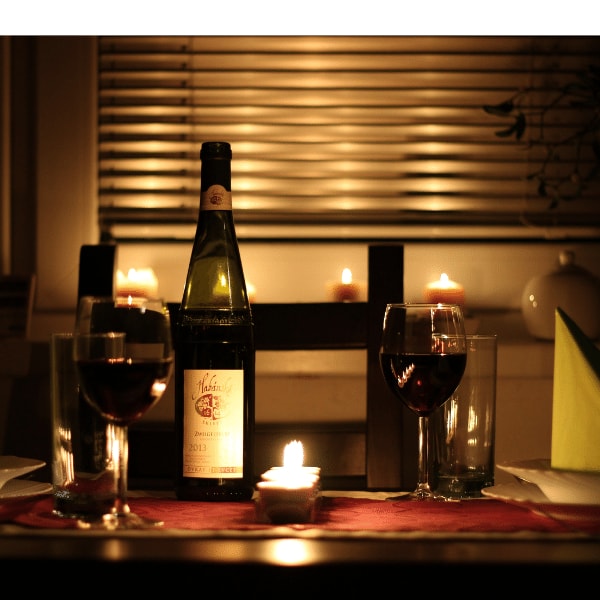 Personalized Date Nights
We will plan the ultimate date night. All you and your special someone have to do is read the directions and go.
A perfect option for a little surprise for both of you. Just choose the theme of the date from over 35 dates and spend the rest of your time making memories for a lifetime.
The Ultimate Date Night Package
Bedrooms, bathrooms, dining rooms, and so much more.
We will send the sparks flying from the moment you walk in the door. During your customization consultation, we will learn everything to make the night one to remember.
You just provide the clothes (or don't).
The Morning After

Don't worry- you don't have to move a muscle after your wonderful night together.
The Elegant Nights team has you covered from cleaning up from the night before to breakfast for the lovely couple.
Let us take care of you, so you two can take care of each other.